Choice EP (The Remixes)
- Kocleo
Integrity Records |
24.05.2017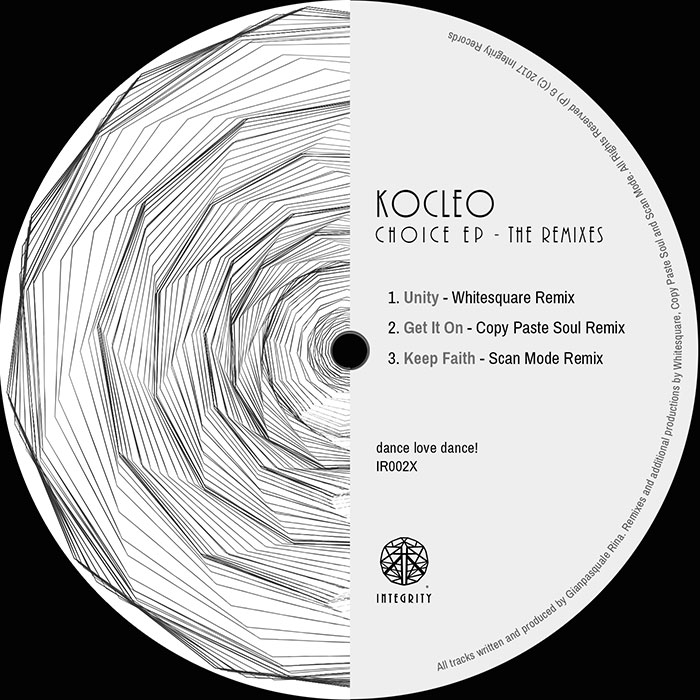 The second instalment in Integrity's remix series sees house and techno stalwarts Whitesquare, Copy Paste Soul and Scan Mode put their midas touch on the already well received "Choice" EP by Kocleo.
Rome-native Whitesquare leads the remix package and turns in a stripped down yet superbly intricate cut of "Unity" with just the right amount of tension during the break, turning the original into a lethal dancefloor cut. Elusive producer Copy Paste Soul reworked "Get It On" into a soul drenched warmth usually found in his productions, bringing the heat with a fat squelching bassline and detroit inspired chords over a tight production weapon. Darkroom Dubs affiliate Scan Mode rounds up the package with his take on "Keep Faith" and goes straight for the jugular with heavy rolling subs and pounding kick drums, bringing you into a dark, dub territory – one for the after hours.
"Choice is the gift of our existence, choose the path of unity and keep faith that one day we will all be living in this world as brothers and sisters…."
Kocleo "Choice EP" (The Remixes) will be released on the 24th of May, 2017.
Early plays and support from Agoria, Ame (Kristian), DJ T, Danny Tenaglia, Detlef, Droog, Dusky, Dave DK, Eric Cloutier, Fabrice Lig, Truncate, Steve Rachmad, Paul Ritch, Luigi Madonna, Carlo Lio, Karim Sahraoui, Anderson Noise, Alexi Delano, Beroshima, Boxia, Mark Henning, Michel De Hey, Man With No Shadow, Robert Owens, Terry Francis, James Teej, Jay Tripwire, Javi Bora, Echonomist, Brothers' Vibe, Steve Ward, Alland Byallo, Bimas, Dachshund, Neil Quigley, Haito and many more..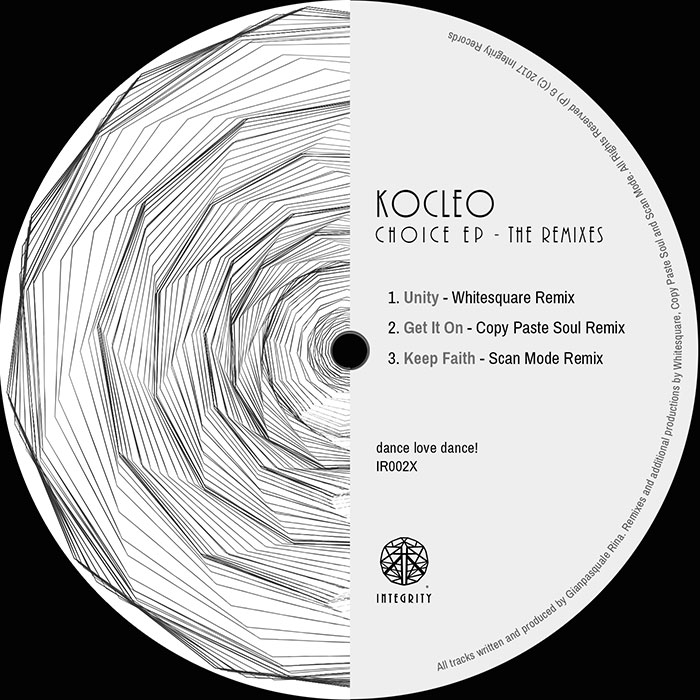 Tracklist
Kocleo - Unity (Whitesquare Remix)
Kocleo - Get It On (Copy Paste Soul Remix)
Kocleo - Keep Faith (Scan Mode Remix)
Share
Copy Paste Soul
Integrity Records
Kocleo
Scan Mode
Whitesquare
- Choice EP (The Remixes) Tracks
- Integrity Records Tracks